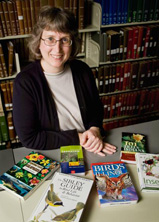 Current SLA Conference
Invitation to attend the Annual Conference from Diane Schmidt (right), 2008 Program Committee Chair:
Below are examples of DBIO's programming at this year's SLA conference in Seattle, 14-18 June 2008. Our hard-working committee has plans well in hand. Sessions you won't want to miss include:
A half-day continuing education course led by Tony Stankus, University of Arkansas Libraries. The course is called "Journal Survival School: How Knowing History Enables You to Negotiate the Scientific and Clinical Future." The course will trace the co-evolution of biomedical specialties and the journals that target them.
Contributed Papers Session Enjoy a free breakfast while listening to presentations featuring the innovative projects of our colleagues.
Science of Coffee
Hot Science Technology Sampler. Come see demonstrations of applications of hot new technologies that are likely to have an impact on the flow and organization of scientific information in the future.
The Wonderful Wacky World of Wikipedia
Cyberinfrastructure: Informatics Across the Biological Sciences
The Medical Section's lunch with speaker Dr. James Brinkley of the Structural Informatics Group at the University of Washington about the need for managing and sharing the raw laboaratory data that forms the basis for journal articles as well as technical and sociological barriers to doing so.
Along with these sessions are the annual vendor networking lunch, the newcomers' lunch, the annual business meeting, and an open board meeting. Also, don't miss the All-Science Reception and Poster Session. Please check out the Seattle Conference Wiki, and see you in Seattle!
Rev. May 2008