Biofeedback
Current Issue | Archives
Welcome to the Biomedical and Life Sciences Division's quarterly, electronic-only newsletter, Biofeedback. Biofeedback contains all the news and information that will help you keep up with what the Division is doing. We publish summaries of conference programs, news about upcoming conferences and meetings, book reviews, and much more. We also keep you up to date on our members: what they're doing, awards and other recognitions they've received, what they've published recently, and who is new.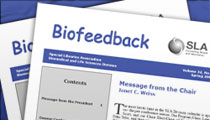 We welcome our members to write articles for publication in Biofeedback. If you have an idea for an article, please email the Editor, Buzz Haughton. We're especially interested in articles about technology or about library school students or database/product reviews.
If you want to let everyone know about your latest achievements, awards, projects or publications, notify Lori Bronars.
Biofeedback is quarterly, coming out in February, May, August, and November. Materials for each issue are due on the 1st of the month prior to publication (January, April, July, October).
Buzz Haughton, Associate Biofeedback Editor
bxhaughton@ucdavis.edu
VACANT, Associate Biofeedback Editor


Rev. November 2017